HOTEL HILTON PODGORICA
17 - 18 June 2019
About THIS SCRUM MASTER TRAINING
find out more about our next certified agile and scrum master training courses in podgorica in 2020.
This two-day Scrum Master training course is structured around the understanding and application of an agile framework for project management – Scrum. Through a varied mix of both theory and practical exercises, the participants learn about the Agile, Scrum roles, processes, ceremonies and artifacts, and gain insights on how to apply this framework in their own context. With Scrum, you can facilitate the efficiency of work processes, promote a healthy organizational culture, and build quality products in line with market needs. Scrum Masters are in big demand and seen as a career with great long- term prospects, which makes this training a popular choice for those wishing to start a more agile journey towards the future.


THIS SCUM MASTER TRAINING IS FOR YOU IF:

You have a career in Scrum but have never had formal education or certified training or you want a career in Scrum and want to learn from the best and get certified along the way.
You crave simple, systematized yet thorough knowledge from the best in Scrum that will help you tackle hands-on your daily challenges.
You work in any industry and need to learn about a management methodology that has a proven track record of working well with deep and strong hierarchies.
You are an executive, project manager or head of IT in search of a better and more modern management framework.
You work in project management and want to clearly understand and define your role in the Scrum process. You are a leader who wants to understand what Scrum is and how can it be helpful in your field.

You are in charge of hiring Scrum team members and want to gain a better understanding of the competencies needed for the jobs.
You want to network with Scrum practitioners from the region and connect with one of the best Scrum trainers in the world.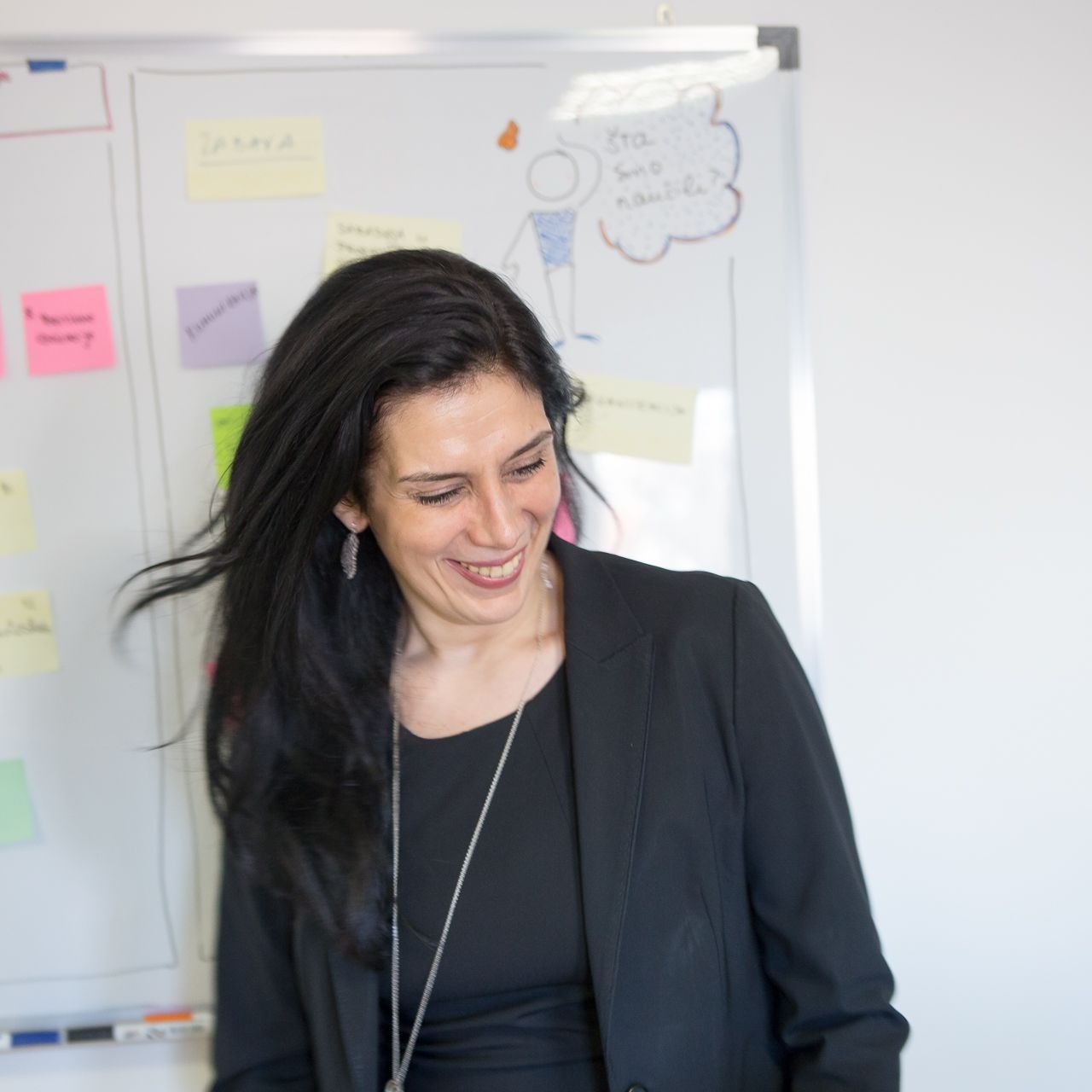 JASMINA NIKOLIC, CSP
Jasmina is one of the most prominent Scrum professionals in the region. She is the founder and CEO of Agile Humans. She has been an active Agile and Scrum consultant, trainer and coach since 2010. She is a Certified Scrum Professional and Kanban Method Coaching Professional. Worked in several industries, contexts and companies of various sizes, from startups to large corporations, both in public and private sectors. Her long list of satisfied clients includes SKS365, Nordeus, AXA MedLa and VIP Telecommunication. University lecturer since 1999. Teaches Agile Culture at the University La Salle, Barcelona.
SCRUM MASTER IS 10th MOST PROMISING JOB IN THE WORLD.
More than 70% teams across IT industries in the world are practicing Scrum and Agile.
More and more companies, across different sectors, are turning to agile frameworks – e.g., Amazon, Microsoft, Apple, Google, Nordeus, McKinsey, TomTom, eFront, Trizma, GoDaddy, Ericsson.
An increasing number of job ads are starting to value competency and experience in Scrum and Agile – hundreds of thousands of openings globally and hundreds in the region currently listed just on LinkedIn.
There is still no formal education in Scrum or Agile, so the best option is learning from the best certified training courses.
Scrum jobs are among the highest paying jobs across different industries.
Scrum and Agile skills and competencies – Quick Reaction to Changing Needs, Faster Deployment, Better Flexibility, Transparency and Predictable Delivery, Predictable Costs and Scheduling – equip you for a changing job market and for jobs of the future.
TOPICS
RELEASE PLANNING
THE PRODUCT BACKLOG ESTIMATING
WHAT IS DONE?
PRIORITISATION
SPRINT PLANNING
ASPECTS OF A SCRUM TEAM
THE DAILY SCRUM
SPRINT REVIEWS
SPRINT TERMINATION
Q&A
AGENDA
| | |
| --- | --- |
| DAY 1 | DAY 2 |
| Participant Registration | Participant Registration |
| 8.30-9h | 8.30-9h |
| Start of the training | Start of the training |
| 9h | 9 AM |
| Lunch | Lunch |
| 1.30 - 2.30h | 1.30 - 2.30h |
| End of the Training | End of the Training |
| 5h | 5h |
FIRST 5 TICKETS AND GROUPS*
*3+ Groups

Includes training materials, Agile Humans certification fee, and lunches and coffee breaks.

After registering with your contact information, you will receive a proforma invoice.
STANDARD*
*Ends 9th June 2019

Includes training materials, Agile Humans certification fee, and lunches and coffee breaks.



After registering with your contact information, you will receive a proforma invoice.
LATE BIRD*
*Ends 16th June 2019

Includes training materials, Agile Humans certification fee, and lunches and coffee breaks.

After registering with your contact information, you will receive a proforma invoice.
If you're interested but unsure about investing your time and resources into this training or need some advice, feel free to contact us – our team of experienced Scrum professionals is keen to work with you on building an open, healthy and thriving Agile Humans community. Our email isagilehumans@agilehumans.city or you can call as at +381637631517,

FEEDBACK FROM JASMINA'S MOST RECENT TRAININGS
Very inspiring day overall. Jasmina's expertise has led us to a new way of thinking and incorporate the agile process not only in the working environment but also in our everyday life. Thanks!

Referrizer
I think this type of events are very beneficial to the team and we should have them more frequently. Also, it will be useful to have a person like Jasmina in the company, with whom we could talk 1 on 1 (once a month?) about obstacles at work and personal/professional growth.

Do I get the certificate and is there an exam?
Yes, to both questions. The Scrum Master accreditation is Agile Humans Certified. It is achieved by attending this two-day course and participating fully in the exercises and class discussions, and then taking an online test in your own time afterwards. The test is 22 multiple choice questions based on the course materials. Delegates must achieve 16 questions or more correctly to pass the test.