Skalirani agilni modeli

Agilno se danas primenjuje na nivou timova, ali i na nivou čitavih kompanija (agilne kompanije). Neke kompanje su nastale kao agilne i lakše se nose sa uvođenjem agilnih procesa, a mnoge prelaze iz tradicionalne na agilnu organizaciju rada i potreban im je model agilne tranzicije. Takvi modeli se zovu skalirani agilni modeli (Scaled Agile) i ima ih nekoliko u svetu. Uspešno se primenjuje u svim iole složenim kompanijama koje imaju potrebu za usklađivanjem rada većeg broja timova koji rade na isporuci jednog proizvoda ili projekata.
Vodeći model agilizacije poslovanja je Scaled Agile Framework® - SAFe® i registrovani je žig kompanije Scaled Agile, Inc. SAFe je proveren model, primenjen je u gotovo svim industrijama i u veoma složenim organizacijama. Daje odlične rezultate u kompanijama koje prolaze kroz digitalnu transformaciju. Model kombinuje agilne principe softverskog razvoja, zatim lin (Lean) principe razvoja proizvoda i elemente sistemskog načina razmišljanja. Radi se o strukturiranom modelu koji se može primeniti u bilo kojoj fazi agilizacije kompanije.
Leading SAFe je namenjen svima koji žele da se upute u mogućnosti skaliranja agilnog razvoja:
direktorima

liderima

tim liderima

svim menadžerima, od projektnih, delivery menadžera preko infrastrukturnih do portfolio menadžera

arhitektama sistema i rešenja

članovima razvojnih timova

Scrum Masterima

Product Ownerima i svima koji se bave razvojem proizvoda

Agilnim koučevima

posebno se preporučuje agilnim koučevima i ostalim change agents koji se bave uvođenjem i sprovođnjem agilnih transformacija na većoj skali.
Ovaj dvodnevni trening daje odgovor na pitanje kako primeniti Agilno i Scrum na celu organizaciju, kako sinhronizovati rad većeg broja timova (nekada i sinhronizacija rada svega tri tima može doneti pravu glavobolju).
Polaznici će obraditi sledeće teme:
Šta je SAFe? Scaled Agile Framework (SAFe): Ključne vrednosti, principi i strategija implementacije

Lean Thinking i Agile Development. Šta su agilno i lin, kako se razlikuju i kako se dopunjuju. Kako agilni i lin principi i prakse utiču na uspešnost kompanije

SAFe na nivou tima: Scrum, XP, uloge, Backlog, estimating and planning

SAFe na nivou programa: Agile Release Trains, Program Vision i Roadmap, Cost of Delay

SAFe na nivou portfolija: Portfolio Program Management, uloga u strateškom planiranju i upravljanju, Lean Portfolio, Strategic Themes

SAFe arhitektura

Kako se skalira liderstvo u agilnim kompanijama: šta tačno radi Lean Agile Leader, koučing u Lean Agile kompanijama. Šta je transformational leadership

Kontinuirana isporuka vrednosti kroz Continuous Delivery Pipeline

SAFe role: Business Owners, Product Management Release Management, Release Train Engineer (RTE), System Team, Shared resources, DevOps, UX, System Architect

SAFe prakse: Release Planning Event (RPE), System Demo, Inspect & Adapt (I&A) sastanci

SAFe artefakti: Program Epics, Vision, Roadmap, Program Backlog, Program PI Objectives, Program Increment, Features and Components, Architectural Features, Architectural Runways
Polaznici stiču znanja tražena svuda u svetu i priliku da kompaniji u kojoj rade pomognu da se što bolje pozicionira na tržištu. Naučićete kako da napravite i podržite agilne timove i programe, kako da uvedete DevOps kulturu i kako da pomognete organizaciji da uskladi agilne procese na svim nivoima, bez obzira na njenu složenost ili veličinu.
Trening materijali i jezik na kom se obuka izvodi
Trening materijali su zvanični materijali SAFe kompanije, mogu biti na engleskom i srpskom jeziku, obuka se izvodi na srpskom jeziku.


Bojan Milutinović, Certified SAFe Program Consultant
Bojan Milutinović je Release Manager u TomTomu. Ima 10 godina iskustva u IT industriji. Tokom proteklih 6 godina vodio je veći broj Scrum i Kanban timova, kao Scrum Master, Release Train Engineer i Project Manager.
Bojan je SAFe Program Consultant, Kanban Management Professional, jedan je od deset Sertifikovanih Scrum Profesionalaca u Srbiji, ima Management 3.0 i Agile Project Management sertifikate. Pasionirani je kouč, voli gejmifikaciju i agilne metrike. Bojan ima veliko primenjeno znanje u lean i agilnoj transformaciji kompanija i vlada gotovo svim agilnim disciplinama: Scrum, Kanban, Scaled Agile Framework, Disciplined Agile Delivery.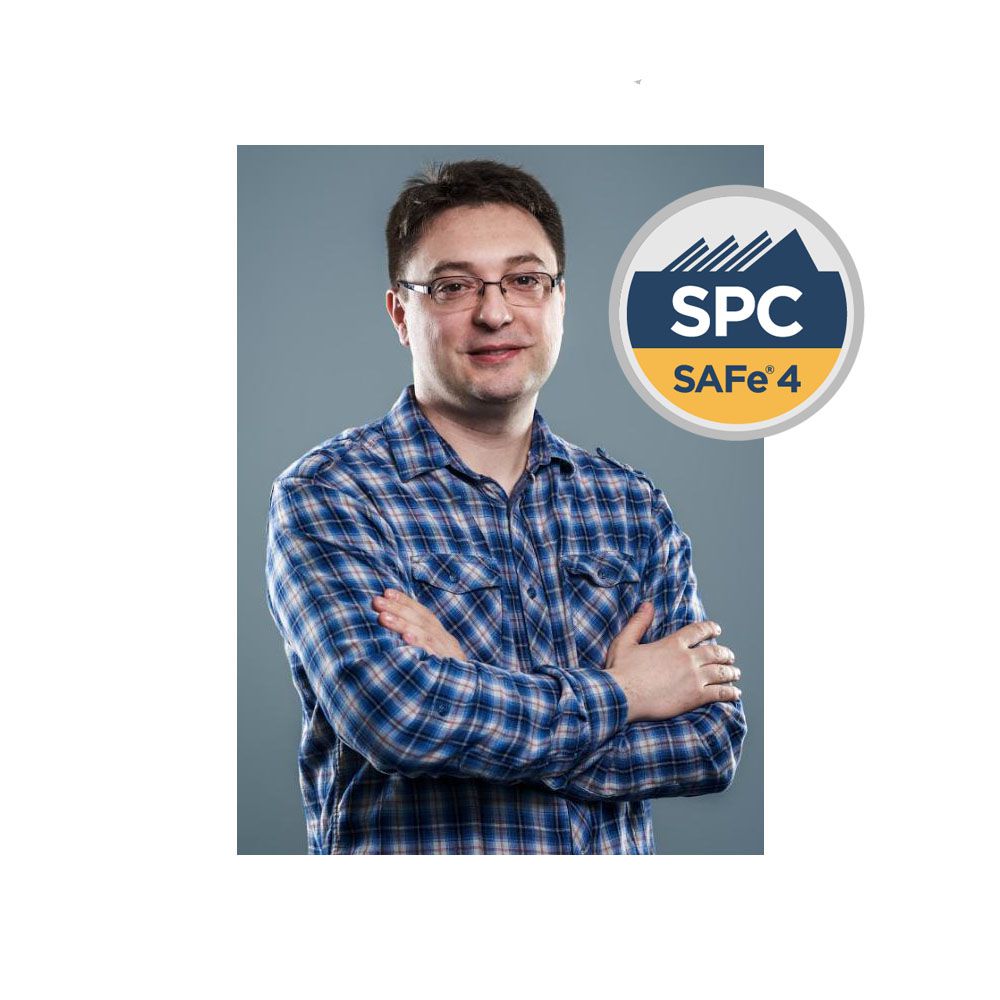 Ovaj trening priprema polaznike za test za Certified SAFe® Agilist. Test se polaže neposredno nakon treninga (najkasnije 30 dana od završetka treninga. SAFe 4.6. Agilist Exam sastoji se od 45 pitanja tipa "višetruki izbor". Neophodno je odgovoriti tačno na 34 pitanja (76% tačnih odgovora). Polaže se onlajn (single-browser), vreme je ograničeno na 90 minuta. Ispit se polaže nakon završenog treninga Leading SAFe i učlanjenja u SAFe Community Platform. Mora se položiti u roku od 30 dana od završenog treninga. Obnavlja se na godinu dana (fee je 100 dolara). Polaznici koji polože ispit dobijaju sledeće:
SAFe Agilist sertifikat

SAFe Agilist digitalni bedž (digital badge)

Jednogodišnje članstvo u SA Community of Practice

Pristup materijalima namenjenim sertifikovanim SAFe profesionalcima

Na osnovu kursa, moguće je steći bodove za obnovu sertifikata Project Management Institute i Scrum Alliance: PDUs (Professional Development Units, PMI) i SEUs (Scrum Education Units, Scrum Alliance)
Osnovna cena kursa iznosi 890 evra, u dinarskoj protivvrednosti na dan plaćanja.
Agile Humans se trudi da svojim polaznicima maksimalno izađe u susret u pogledu načina plaćanja. Molimo vas da nam se javite ako imate neku specifičnu potrebu u vezi sa plaćanjem, mejlom na: team@agilehumans.international, ili telefonom na: 0653636792, ili 064 9240552 .
U cenu je uključeno:
Radni materijali (Attendee workbook)

Sticanje uslova za polaganje testa za SAFe 4.6 Agilist (Preparation and eligibility to take the SAFe® 4.6 Agilist exam)

Jednogodišnje članstvo u SAFe zajednici (One year membership to the SAFe Community Platform)

SAFe sertifikat o pohađanju treninga (Course certificate of completion)

Agile Humans sertifikat o pohađanju treninga

Kafe pauze i ručak oba dana

Pravo na progresivan popust na sve naredne treninge koje organizuje Agile Humans
Polaznici moraju pohađati oba dana kako bi stekli uslov za polaganje testa.
KONTAKT
Tu smo za sva pitanja. Za tehnička pitanja i pitanja u vezi sa sadržajem treninga, pozovite na 065 3636792,
064 9240552, ilii nam pišite na email team@agilehumans.international.